---
Brugmansia
Durman
Datura
Andělská trumpeta
Rozdíl mezi durmanem a daturou.
.
Durman má květy od zhora dolů a je to trvalka ( při správném zimování).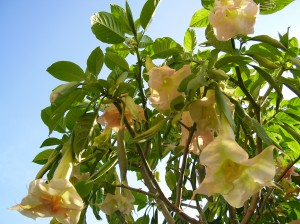 .
.
.
.
.
.
.
Datura má květy nahoru a je to letnička, která se nechá částečně přezimovat.
.
.
.
.
.
.
.
Durmany, které známe z našeho okolí, či obchodů, jsou různé varianty kříženců mnoha druhů. Jsou to mohutné rostliny, které mohou dorůstat až 5m. V našich podmínkách jsou však spíše keřovité, avšak v jejich domovině( převážně  Jižní Amerika) jsou to  stromy. Tvar  a velikost listů je různá podle druhu. Listy mohou být i 35cm velké(vlastní zkušenost) .
Květy durmanů připomínají tvar trumpet. Je však i mnoho dalších variant.
Např.: Trychtýřovité, zvonkovité, trubkovité, jednoduché, plnokvěté, dvojité, trojité a dokonce i roztřepené, které vůbec nepřipomínají původní tvar trumpet.
Velikosti květů se pohybují od opravdu malých až po obrovské. Ty největší mohou dosáhnut až 40cm délky , či 35cm a více průměru.
Barevná škála je rozmanitá od bílé, žluté, červené, oranžové až po fialové, objevují se i dvoubarevné v různých variantách, či s měnící se barvou.
Plodů se většinou nedočkáme, neboť přijde zima a květiny se zazimují.
Květy se otevírají večer a nádherně voní, což je pravý čas pro relaxaci.
Komentáře
Přehled komentářů
---
---